The College Board's Advanced Placement (AP) is an internationally recognized program and assessment offered widely around the world. It consists of college-level courses that AP-authorized high schools can choose to offer, and corresponding exams that are administered once a year.
For the 2020-21 school year, College Board is partnering with Prometric to manage AP exam registration and administration in China.
2020-21学年,大学理事会与Prometric合作,为有AP授权的中国学校提供AP考试报名及管理相关考务。
Here is the 2021 AP China exam schedule: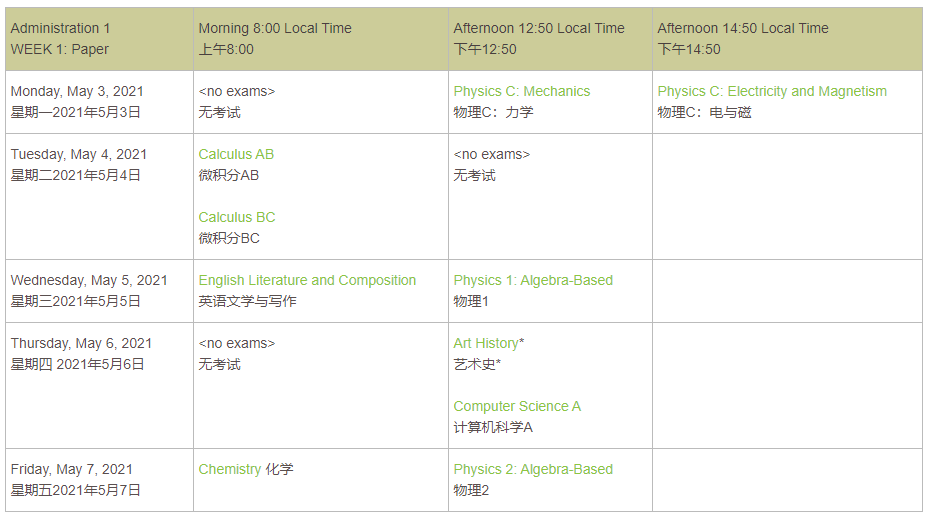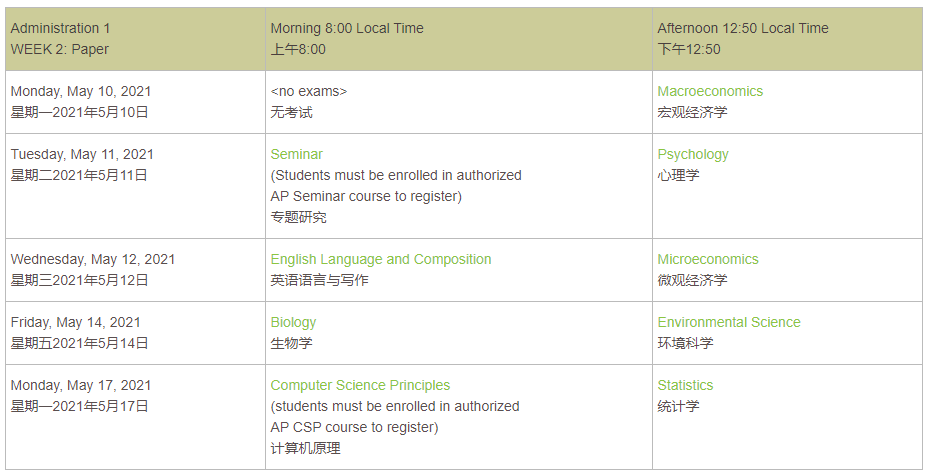 Exam Fee: RMB 1380 per exam, inclusive of RMB 30 Alipay service charge (non-refundable)
考试报名费:人民币¥1380 / 每科, 包含 ¥30支付宝手续费(不可退还)  Payment Method: Alipay
Students cannot register for both Calculus AB and Calculus BC in the same year. Pick one exam only.
Students can take all four AP Physics exams in one year.
Students who wish to take both AP Art History and AP Computer Science A should register for AP Computer Science A on May 6 and Art History in Administration 2.
Students may register at only ONE test center for each subject. Example, do not register for Calculus AB at both centers in Hong Kong and mainland China.
学生不能在同一年同时报考微积分AB和微积分BC。仅选择一项考试。
学生可以在一年内参加所有四门AP物理考试。
希望报考AP艺术史和AP计算机科学A的学生,只能报5月6日的计算机A和第2考段的艺术史考试。
每个科目学生不能同时在两个不同地点报考同一科目。例如,不能在香港和中国大陆的两个考点都报考微积分AB。
Student Eligibility Policy: Failure to comply may result in cancelled registrations
Students must be enrolled at an AP authorized school with a CEEB Code/College Board School Code (6 digits, starts with 694).
Students who do not attend an AP-authorized school will not be able to register with Prometric.
Self-study codes by province will no longer be used for AP exam registration by the Chinese AP-authorized test centers for the 2020-21 school year.
Students must have a valid, original Chinese National ID. Non-Chinese nationals must have a valid, original passport.
Must be born after May 31, 2000.
必须是CEEB代码/大学理事会的学校代码(6位数字,以694开头)在AP授权的学校注册的学生。
非AP学校的社会考生不能通过Prometric报名。
各省的社会考生代码不再使用,Prometric只为AP授权学校提供考试服务。
学生必须具有有效的中国身份证。非中国公民必须持有有效的护照。
出生于2000年5月31日之后。
 
Registration Payment Schedule:
Oct. 23, 2020 09:00AM – Oct. 30, 08:00PM, Beijing time. All exams must be registered and paid for by no later than Oct. 30, 08:00PM.
All exam registrations will be guaranteed with test seat assignments..
At the time of registration, students will see which city they will be able to test in based on the school they attend. The detailed location will be planned to provide to the AP schools by January 31, 2021. Student registration information and test location will be included in the exam admission tickets (but cannot be changed), which will be available to download approximately one month before the exam.
 
报名确认缴费时间(北京时间):2020年10月23日9:00-10月30日08:00PM。所有考试必须在10月30日08:00PM之前确认报名并付款。
所有已完成报名的考生保证有考位。
报名时,学生将获悉哪个城市参加考试。具体考试地点暂定在2021年1月31日前通知到各AP学校。报名信息将显示在准考证上并且不可更改,准考证和考试地址在考前一个月左右可以下载。
 
¥1,380 per exam, payable to Prometric by Alipay (the only acceptable payment method) at the time of registration.
No cancellation or refunds will be allowed once the registration is complete . No shows will not be refunded.
AP will support paper and pencil testing in 2021. A digital contingency option - that contains full course content - will be offered if paper and pencil tests cannot be administered due to the ongoing pandemic. Refunds will not be offered to students registering through Prometric.
AP考试每科费用为1380元人民币,Prometric只接受支付宝缴纳考试费。
一旦考生确认报考并完成支付,将不允许取消或退款。已报名考生如果缺考,所缴考试费不能退回。
2021年AP考试将采用纸笔考试的模式。如果受到持续性的疫情的影响,不能实施纸笔考试,一个包含完整课程内容的数字化考试方式将作为应急方案。通过Prometric注册的考生将不会被退还考试费用。
Registration Instructions:
AP Coordinators from each AP school will be responsible for verifying and submitting student and exam subject information in an exam roster to Prometric.
Only students and subjects submitted in the AP Coordinator's roster will be eligible for next steps of exam registration. Students who are not on the school roster will not be eligible to register for the AP exams.
Please find Instructions for AP Coordinators, Students/Parents on the 
在学生向Prometric进行报名缴费之前, AP学校管理员需要先收集考生信息并建立一个报名信息文件,列出本校的AP学生及需要报考的科目。
只有AP学校管理员提交的名单里的学生和科目才有资格向Prometric进行下一步考试报名及缴费。
AP学校管理员,学生/家长的报名操作指导,请在